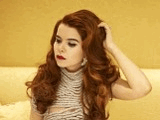 Paloma Faith, a popstar extraordinaire renowned for her outrageous fashions, failed to disappoint Q as she emerged from her tourbus mid-afternoon immaculately dolled up from head to toe and elongated somewhat by a pair of ceiling-defying heels. Behind the mic her vocals have drawn parallels with Etta James, which is hard to recall as she talks shyly in her childlike tones about the perils of fame: Health & Safety rules, appearing on morning television and being a "bit psycho" about Paolo Nutini. Still, it's not the worst job she's ever had...
Q: Hi Paloma, how are you?
Paloma Faith: I'm alright. I'm a little bit... exhausted [sighing]. We've done two and a half weeks in Europe already...
Q: How is life on a tourbus?
PF: I enjoy it actually. We've done it a little before but this is the longest - a month in total on the road.
Q: How do you prepare?
PF: I just pack ridiculous amounts. I'm very organised.
Q: You released your debut single last summer and now you're on a sold out headlining tour. Does it feel a little crazy?
PF: No. I feel like there are so many people who started at the same time and are doing better than me [laughs nervously]. I look at Florence & The Machine and I think, [whispering] This isn't mad!
Q: And now you've got the Next Big Things of 2010 to worry about too. Is it a blessing and a curse that the British music industry is filled with so many young...
PF: [Interjects] Vaginas?
Q: To put it succinctly...
PF:< [Giggling] I just think it's not new that women can sing. It's a trend designed by record companies and the only similarity is that we all have the same genitals. I don't really consider myself to be part of a thing. I'm part of my own thing.
Q: How did your '50s pin-up style come about?
PF: I started liking Marilyn Monroe when I was really young cos my older cousin was really obsessed by her. I looked up to my cousin so I had to like what she liked. Ever since I've been really into it. After I hit puberty my body was just quite curvy so even if I lost shed loads of weight it would still suit my proportions.
Q: You've become a bit of a fashion talking point. Does your creative input extend beyond music? Is there a House of Paloma?
PF: Yeah, all the initial ideas come from me. I come up with the set and then I work with Petra Storrs and she turns my ideas into... real things. This tour was inspired by a Busby Berkeley set. I had a picture in a book that my hair stylist gave to me and I was like, [with childlike wonder] Wow, I want that! So I've got massive input there. Obviously I'm lucky cos I get to work with people who are incredibly creative and I put some trust in them. You can't do it all by yourself!
Q: Your stage performance is reminiscent of past eras where music shows were more theatrical. Why do you think that's disappeared somewhat?
PF: It's sad, isn't it? I've realised a lot of people in this industry don't do it because they can cut so many corners. Because it's such a big part of what I do I can't cut those corners. I trained in theatre and that's my comfort zone. That's what gives me the confidence to perform that I've got an amazing presentation and I know how to work it. It's really difficult to do that in this day and age when everything goes against you.
Q: Such as?
PF: Fire proofing, health & safety... It's so boring! I take all these ideas to production and they always say to me [petulantly], Oh health & safety! When I'm budgeting I overlook the fact that everything has to be fire proofed. I only used to have a budget of £100 a gig but I always had a stage set and never fire proofed it. Once I filled the stage with books that I got from Oxfam. That was a total fire hazard [laughing].
Q: Part of being a popstar is doing less elaborate performances on programmes such as GMTV. Is that boring too?
PF: I hate morning television. I'm not a morning person at all. I'm a real vampire. If I could I'd get up at one or two every day. You have to do it though cos it really affects your sales, like an 85% difference. My single came out and hasn't gone anywhere in the iTunes chart but when I do GMTV it'll shoot up. I'll have to get up at 3 or 4 in the morning, and in the middle of a tour! But I'd rather be doing this than crap jobs.
Q: What are Paloma fans like?
PF: They're so lovely and down to earth. They can be strange though. I've been going into my merchandise stand to sign every night after the show. Last night was the biggest gig we've done on the tour, I'd been signing for an hour and was really tired so my manager said, Guys Paloma's not going to any more. They started shouting, This is bad form! Cos it's so unsympathetic I'm just not doing to do it anymore, which is a shame cos I'd like to.
Q: Are they too demanding?
PF: Well, it's sad when people think you're some sort of Duracell bunny and you can just keep going. Especially with a tour because I started to worry about how it would affect tonight's gig. I don't want to let Glasgow down because I gave so much to Dublin. But on the other side I do have amazing fans who are really sweet and bring me presents. I write to them on Facebook and have a lot of time for them. I try to reply as much as I can. There are certain people I know I have to see tonight because they are so important.
Q: So what lies ahead after the tour? Is it true you are doing a duet with Paolo Nutini?
PF: I haven't organised it. I'm obsessed by him. I don't mean that to sound... well, I am a bit psycho about him. I'm not supposed to be though cos I'm in the public eye [cackling]. I really want to do a duet with him and I invited him to come tonight. Or my manager invited his manager. But I don't think he can come so I'm slightly sad. I will cover one of his songs tonight cos I'm in Glasgow. I personally think he's the most talented act in Britain.
Q: Really?
PF: [Dreamily] Yeah... And he's very handsome. I think we've got a lot of the same music tastes. When I met him on Jools Holland's Hootenanny I was a bit starstruck so I couldn't really talk to him. I felt like such a fan. He did a Wynonie Harris song and I love Wynonie Harris. Paolo was like, Oh you know him? So I think him and I could gel.
Paloma continues to marvel at the possibility of a Paolo cameo at tonight's gig as she carefully maneuvers upstairs like a woman on stilts while escorting Q out of the building.
Paloma Faith is due to play European festivals this summer including Isle Of Wight and Love Box. Her album, Do You Want The Truth Or Something Beautiful, is out now.
source: Q