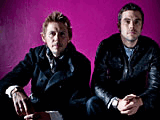 Groove Armada have marred the memories of many a married couple but have Olympian plans to repent for that in 2012. Or so Q was told when catching up with one half of the British dance duo. Q met Tom Findlay on the day of their new album's release for a chat as industriously efficient as the '80s sound that inspired their change of direction. If you'd been stood up by an ex-Sugababe you'd likely get a bit moody too...
Q: Hi Tom, how are you?
Tom Findlay: I'm alright, quite manic with the album being out this week.
Q: It must be a relief to finally get it out there?
TF: It is! We outed it last July at Lovebox so it's been out for months in my head. It missed the Christmas rush. [Smiles] We couldn't go up against Cliff Richard and SuBo.
Q: The critics' response has been great so far...
TF: Yeah, the reception's been really positive. The Best Of stuff was the end of a certain phase with leaving Sony/BMG. We wanted to do something on a completely different level. It's almost like starting over, as John Lennon would say.
Q: It's much darker than classic Groove Armada. How did that come about?
TF: It was a combination of influences in what we were listening to: the classics of Gary Numan, a bit of Bowie, Roxy Music... and a live sound we wanted to achieve based on the Paul Epworth produced Friendly Fires stuff. We were going through a lot when we wrote the record and took ourselves out of a comfort zone where we knew where to write stadium type anthems. [Laughs] I blame Nick Littlemore (Empire Of The Sun). He brought a certain amount of darkness to it and I was hoping for some '80s anthemic pop!
Q: Was there a moment in particular when you realised something had to change?
TF: Friendly Fires played before us at the Edinburgh Hogmanay gig. It was cold and miserable, my toes were almost falling off, I wasn't really getting into it... but I remember thinking they were brilliant. Once we came on, it felt really overblown and pompous. That was the moment I thought, We can't go on like this, we've got to come up with something leaner. Even if people aren't going to go crazy, I want to stand there feeling confident in what we do. We believe in ourselves now in a way that I probably didn't a few years ago.
Q: Black Light seems almost an homage to a late '80s/early '90s industrial sound, The Hacienda, etc...
TF: Yeah, definitely. It wasn't deeply subconscious, though. I guess we didn't feel the pressure to write singles that we've felt for the past 10 years. But there is that darker, Northern, industrial, techno sound to it all - that New Order merging of styles. I studied in Manchester and went to The Hacienda a lot, although by then it was more rave-tastic.
Q: It's a block of flats now...
TF: Yeah, it had its moment and burned quite brightly but there were a poisonous few years. It's hard to sustain that first thrill so I think it makes sense that it's a block of flats now. I mean what else could it be, [laughs] a supermarket?
Q: Speaking of dance institutions past, the song History talks of history repeating. Do you feel a sense of that today with the sound of new bands like Delphic?
TF: Delphic are brilliant live and it really reminds me of those early, rough Underworld gigs with the euphoric, big choruses leaping off the record. But History was a song of Will Young's and it's probably about love. We added a backing track that looked backwards rather than forwards. It's very Bronski Beat Smalltown Boy. Basically it's the exact same chords if you want to get me into trouble for it [laughs]. It's just the way things are that it's hard to come up with something truly original.
Q: Some contemporary artists are using old material in quite a novel way though. Take The XX for example?
TF: Yeah, we're in a really good time for music. I love what they're doing and have a lot of respect for them. They're a really interesting example of referencing so many different things you can't put it in any bracket at all. They make utter minimalism sound brilliant. It's hard to be unique but every now and then bands come along out of nowhere, like Delphic and Wild Beasts, and do things in a way nobody else has done before. The Horrors are my new favourite. Their name and image didn't really seem right for me. But live, they're great. I'm gonna book them for Lovebox. [Smiles] We'll see.
Q: You're known for your collaborations, in particular with ex-Sugababe Mutya. Did she not get the call this time?
TF: She did! She didn't turn up [looks aghast]. We had this real pop smash and it's still out there cos it was written with her in mind. I'd love to do something with Paloma Faith... there's something about her. I do love Mutya's voice. She just sounds quite bored basically. I haven't given up on her. I've still got her number...
Q: But you've got a new vocalist now...
TF: We've got Becky (SaintSaviour) whose fantastic. She's fronting the band and has started doing these acoustic versions of our songs. Just hearing her sing freely is when we realise we need to let things be. There's an element of control-freakery about the two of us, so we need to let her go a bit.
Q: How did you hook up with Bryan Ferry?
TF: This photographer we know told us he knew Bryan Ferry's son. We were like [rolls eyes], Sure you do. But it all happened. Isaac Ferry vetted us. Next thing we knew we were having dinner with Bryan. Now Roxy Music are reforming and doing Lovebox, it's really amazing. I love late Roxy Music: More Than This, Avalon... all the sort of stuff your mum would like. But I also love all the early disco of Re-make/Re-model, Angel Eyes, Ladytron. They're one of the best British bands of all time.
Q: Did you make any other good contacts for Lovebox at Big Day Out in Australia?
TF: We hung out with Dizzee Rascal a lot, he was sound. We met Peaches and booked her. The Kasabian boys were brilliant. I'm hoping that one day they'll come. Muse were on a different planet. You just don't see them the way you see all the other bands cos they don't go to the after parties. It was a really great bunch and a good bit of socialising.
Q: Dizzee is one of the headliners this year. He's getting so much attention now...
TF: Yeah, we should just be really proud of that. It's says a lot about British multiculturalism that someone like that can make a pop record and everyone loves it. I said to him before the Brit Awards, If you don't win it'll be a total crime. I'm really thrilled to have him at Lovebox. His show is just relentless, hit after hit.
Q: Adding to Roxy Music and Dizzee, you've booked Grace Jones. Last year you had Duran Duran. What's next? Gary Numan? Bowie?
TF: Bowie would be the absolute ultimate [grins]. He's my dream. It's the Olympic Park stadium in 2012, so if he's still going and he wants to do it... The nice thing is that we've got Roxy Music and Grace Jones but also Hot Chip, Chase & Status, Empire Of The Sun, The Maccabees... We're finding the balance between heritage and contemporary.
Q: Your music must follow you around a lot - I See You Baby, Superstylin', etc. What's been the worst usage of your music?
TF: The M&S ad with At The River is unforgivable. All I can say in my defence is that it was a lot of money and it came at a point when we thought that was it. I'm like anyone, with a family and being a musician is a short career. But that's the one. I don't mind the I See You Baby car ad. We still play My Friend, Easy, Superstylin' but we don't play I See You Baby any more. It was the one we felt we could afford to let go. It was a fond farewell, but still... it was time to say goodbye.
Q: So At The River's gone too?
TF: No, it's still there. [Laughing] Minus the velvety voice. It feels different now when we play it. I was hoping that people might forget but many haven't forgiven us. I've lost count of the number who have told us they got married to it and now watching their wedding's like seeing an ad for chilli con carne or ice cream and chocolate sauce.
Q: You've had some incredible gigs in your career. What's the most memorable?
TF: I didn't enjoy it cos I was so nervous but looking back Glastonbury was amazing. It was the ultimate moment for that particular visual show that we were doing. Any gig after felt like a disappointment. That was why we needed to stop - Edinburgh Hogmanay was that same show. There wasn't anything wrong with it but it had its moment in time. We'll never completely give the visuals up but the show's more focused on Becky now. I'm happy we've made a statement with this. Bit by bit we're winning people round and yeah, it feels like we're starting all over again.
Groove Armada have just released new album Black Light. They are currently touring Europe and the US. Lovebox takes place 16th-18th July this year at London's Victoria Park.
source: Q